Stop Motion Presentation
App called stop motion- free for Apple
Question button and shows you what every button means
Animated it on Photoshop
Added a drawing component onto the stop motion
Used twinning button-she did 4 layers
Take your time, leave room for error, and have fun with it!
Resources
Makerspaceforeducation.com
Iste.org
sites.google.com/site/waldportfolio
Maps Presentation
Google Geographic projects
Google Maps
How can get students to make own maps- Google My Maps
Can find out perimeter, routes, and area of shape
Attach media
Can colour the map based on numerical value (e.g. temperature and red for hotter and blue for cooler)
Share the map to collaborate
Lesson/project ideas
Points of interest map
Student commentary
Family heritage map
Where people are from
Where they've visited
Map languages
Map out fictional settings from novels
Trip planning- real or imaginary
Google Street View
Not just streets
cultural , political, physical geography
Google cultural Institute
Museums, natural wonders, architecture
Art, curricular content, historical documents, deep dives
Google Earth vs Google Maps
Google maps more for utility but don't get a feel for what places are like
Google Earth gives high resolution 3D imagery-immersive experiences for children
On Google Earth can:
Find your house and get up close with Street View
Flight simulator
View the past-sliding scale from current to years ago to see how the land has changed
View layers- can add for different data-global awareness layer-can see endangered habitats and species
I'm Feeling Lucky button- go look at a place haven't thought to look themselves
Google Moon, Mars, and Sky- moon had immersive interactions with apollo missions-narrated by people who were actually on the missions
Voyageur- curated tours of various places around the world-one of chimpanzees in Tanzania for example
For lesson plans
Could do 20 questions
Real world math
Explore different environments
Create your own KML tour
Scavenger Hunt- coordinates and ask children what is at the coordinates found
Another wants you to find the latitude and longitude
Using my Maps in the classroom: Grade 4 cross-curricular project
Could have students follow main characters during the Gold rush, can measure distances and give criteria for visiting specific sites along the way
Could keep road trip journal
Can add in custom icons, change the base maps
What Google Maps knows about you can be scary or awesome
Give up a lot of privacy
Google can track you if you don't opt out
Go into Google maps and click on timeline
Settings-location services turn off-won't track anymore but don't have the same benefits of convenience
In class could talk about online presence and responsibility
Can speak about corporations and their power-take your information and use it to sell you stuff. Fair?
What is Digital Literacy and how can we bring it into the Modern Classroom Presentation

Information literacy- being aware of what is authentic and teaching kids how to recognize that-quality and credibility-who benefits from the information- biases
Ethical use of digital resources-what is plagiarism-how do you properly cite information-do you or do you not need to cite
Understanding your digital footprint-passwords, IP address, internet service provider, cookie-what are you leaving behind
Protecting yourself online- be careful how sharing your privacy-privacy settings- have a critical understanding- if needed to go deeper- can talk about data encryption and hacking
Handling digital communication- don't be a jerk, don't let the screen dehumanize conversations, cyber bullying-what to do when someone's bullying you online-encouraging to walk away, not engage, and tell an adult (build trusting relationships)
Pros
Experiment more in classroom
Promote more student participation
Boosts engagement
Endless resources that could be used
Less paper
Cons
Can be distracting sometimes
Not everyone has equal access
Less opportunities for in person group discussion
Not all research is reliable
Potential exposure to inappropriate content online
Cyber bullying
Some students and children have little to no experience with digital tools
Strategies, tips, and best practices
YouTube- Crash Course Navigating Digital Media Series
Fact checking
Lateral reading-checking for biases-who's writing this and why
Evaluating evidence
YouTube: Crash Course Media literacy series
History, influence and persuasion, advertising, media ownership (how impacts us/biases)
MediaSmarts.ca
Canadian specific content
Resources for teachers and parents
-including lesson plans
Best practices
Student choice and voice
More creation than consumption
Include multimodalities
Centre collaboration
Ensure accessibility of all learners
Crowd-accelerated learning (e.g. citizen science-need data processing but can't teach computers how to do it so get human brains to engage with data-e.g. Categorizing pictures of galaxies with telescopes galaxy not galaxy galaxy not galaxy-mildly boring-but some really interesting citizen science projects can get students engaged in and working through that data
Social media and peer-to-peer social learning
Core competencies
How to talk to parents about digital literacy
Don't assume parents understand and are aware
Different families have different rules
Not all know about their child's online use and footprint
Digital literacy is a key component of the BC Curriculum-21st Century Citizens
Communication with parents is key- helping them understand what teaching their kids, how engaging them with digital literacy
-You could organize a Digital Family Night (classroom or school wide)
PRO TIP:
Doc.new will give you a new document quick if already logged in
Technology integration
No technology in class is starting point
Think about ways how to Substitute -tech acts as a direct tool substitute, with no functional change (enhancement)
Augmentation- Tech acts as a direct tool substitute, with functional improvement (enhancement)
Go deeper- Modification– tech allows for significant task redesign (transformation)
Redefinition-tech allows for the creation of new tasks, previously inconceivable (transformation)
SAMR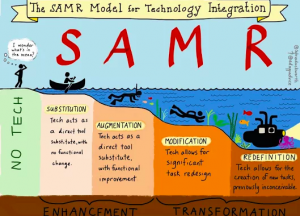 Image from Sylvia Duckworth
Technological Pedagogical Content Knowledge (TPACK)
Pedagogical Content Knowledge (PCK)
Technological Content Knowledge (TCK)- google maps to teach Geography
Technological Pedagogical Knowledge (TPK) how to know how to use technology appropriately/effectively, and not just because new and shiny